The following actors are all alumni of some of my favorite shows, and I want them back on television. Post haste!
Merrin Dungey

Dungey is one of my beloved

Alias

actors and probably one of the most underappreciated. She spent two seasons playing Francie Calfo and then made a couple of repeat performances later in the series. She spent two seasons on the sudsy, frothy mess known as

Summerland

. And then good news! She was cast as Addison Montgomery's best friend Naomi Bennett in the backdoor pilot for

Private Practice.

And then bad news! She was replaced by Audra McDonald for the actual series. Even though McDonald seems perfect for the part of Naomi, Dungey needs a role elsewhere.
Gillian Anderson

I don't care if she's playing Dana Scully or not, Anderson should return to American television. (Actually, that's a lie: I'd love to see a Scully comeback.) The

X-Files

alum has had a fair share of success with the miniseries

Bleak House

and with

The X-Files: I Want to Believe,

but it's not like she's crazy busy. And she did vow to come live in America again if Obama won, so she is in the country...
The Senior Staff of the West Wing

And by that, I mean Bradley Whitford, Allison Janney, Richard Schiff, and Josh Molina. I'm even going to throw in Janel Maloney and Stockard Channing. The whole cast of

The West Wing

is enormously talented, and the actors deserves more roles

—

preferably on the same show, preferably on one created by Aaron Sorkin. (I'm not including Dulé Hill and Rob Lowe because they have regular jobs, and I'm not including Martin Sheen because he's had a long career and deserves a break.)
Sam Jones III

Why has he not returned to

Smallville

? People should know when they can jumpstart a big-screen career and when they can't. (I call it the David Caruso Question.) If Sam Jones III can't make the transfer, he should return to the burg of Smallville to have more dangerously awesome, awesomely dangerous adventures with his old high-school chums.
Almost the entire cast of

Roswell

But not Katherine Heigl, that diva! No, this one goes out to Shiri Appleby, Jason Behr, Brendan Fehr, and all the rest who need jobs. I miss them. Unless they've abducted by

real

aliens, they're around, and probably looking for work.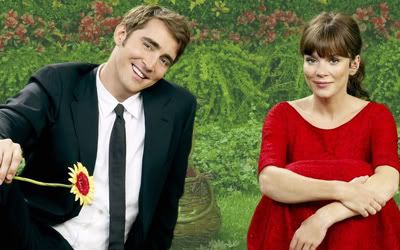 Lee Pace & Anna Friel

I'm sad that

Pushing Daisies

was cancelled, and I'm remiss for not having seen all of the available episodes! But I loved what I saw, and these two were masters of innocent, cutie-patootie love. I'd love to see them portray the same types of characters. Then again... it could be cool seeing them as serial killers...